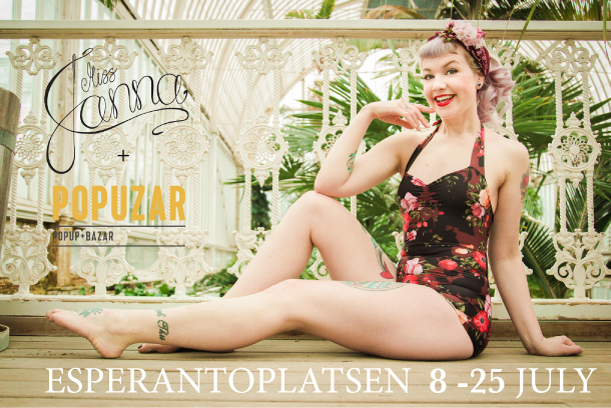 Hello Sweethearts!
Next week we are opening up a very temporary Pop-up store! Super excited about this! We will be located in the middle of Gothenburg at Esperentoplatsen the 18 – 15 July and open 11 am -19 pm. We will be one of two vendors at Popuzar, an effort to open up and make unused city spaces more living by inviting new creators to take place in re-made containers to use as Pop-up stores. Next week will be our turn to be featured. The vendors change from week to week to give the city a live and vibrant feel. Come and give us a visit! A full range of our swimwear will be featured + some rare pieces at special prices.
Our Instagram will of course be updated with pictures from the event. You can also check it out here at the Fb event. We will be having competitions where you can win a swimsuit. Since not everyone is able to make it to Gothenburg you can also enter by uploading a inspirational picture with or without our swimwear using the hastag #MissJanna at Instagram. Don't forget to tag us (@Miss_Janna_d when entering so we can see your entry.
Hope to see you at the event!
Love
Janna